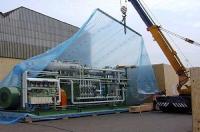 Cortec® Corporation produces a suite of innovative packaging materials that are silent but powerful tools to protect metal goods from corrosion. Sold under the VpCI® brand, these innovative flexible packaging solutions use Vapor phase Corrosion Inhibiting Technology to safeguard metal components during the vulnerable period of shipment, when extreme humidity changes can put metals at risk for corrosion.
Cortec's VpCI® packaging suite avoids the downsides of many traditional corrosion protection methods through Vapor phase Corrosion Inhibitor technology. VpCI® molecules incorporated into a packaging material work by evaporating into the air and forming a protective molecular layer on all metal surfaces inside an enclosed package. When the component reaches its destination, it can simply be unwrapped and used immediately without additional cleaning or degreasing. This is unlike many traditional methods, such as those in the auto industry, where parts are often dipped in petroleum-based rust preventatives that require cleaning and proper disposal before use of the part. In contrast to these commonly hazardous materials, VpCI® packaging typically is fully recyclable, fully repulpable (for most VpCI® papers), and non-toxic to use.
Flexible packaging options include Cortec's bestselling VpCI®-126 film, convertible into multiple sizes and shapes: from small zip-lock bags for small parts, to large shrouds that fit expensive medical diagnostic equipment. Cortec® even offers Eco-Corr Film®, a biodegradable corrosion inhibiting film that can be made with ESD properties. Other VpCI® foams, emitters, and desiccant combinations add extra protection to the packaging suite as needed.
Cortec's versatile VpCI® packaging options are safe and easy to use, cutting down labor and disposal costs and providing effective protection for valuable parts in multiple industries. By offering these innovative packaging solutions, Cortec® has had an unseen hand in protecting many consumer good components from corrosion and will continue to silently fill a critical need in the packaging industry.