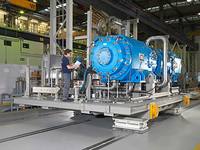 Aker BP's offshore platform Ivar Aasen has started production in the Norwegian North Sea. The facility features MAN's hermetically-sealed motor-compressor HOFIM™, which was successfully commissioned in October 2017.
The offshore production platform Ivar Aasen, run by Aker BP, is the first to utilise the hermetically-sealed HOFIMTM compressor system. This technology is very similar to MAN's subsea compressors which are in operation at Statoil's Åsgard field in 300m water depth with more than 30,000 running hours.
"The industry places great trust in MAN's system solutions, because they are witnessing their unique reliability – even for revolutionary and complex applications like subsea gas recovery," says Uwe Lauber, CEO of MAN Diesel & Turbo.
The Ivar Aasen field lies in the Norwegian North Sea, approximately 175 km west of Karmøy, and contains about 200 million barrels of oil equivalents. Oil and gas from Ivar Aasen will be transported via pipelines to the Edvard Grieg platform, where it will be processed and exported to the market. It is anticipated that the field will have an economic lifetime of approximately 20 years.
MAN's compression system for Ivar Aasen comprises a multi-stage radial compressor (1x100%) arranged in tandem configuration around a centrally positioned 9.5 megawatts high-speed electrical motor. The integrated active magnetic bearings are provided by MECOS, a MAN company.
"The HOFIM™ technology is ideal for upstream applications, where cramped environments ask for simple, robust and safe compression systems," explains Basil Zweifel, Head of Oil & Gas Upstream at MAN Diesel & Turbo in Zurich, "The use of a high-speed motor and active magnetic bearing are the most significant aspects of our technology. The absence of the dry gas seal system and of the complete oil system reduces the complexity and this leads to improved system reliability. The required footprint shrinks by 60% and weight on the compressor installation drops by 30% in mass compared to traditional compressor designs."