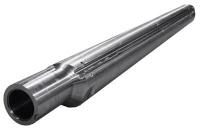 Petroleum Technology Company (PTC) launches the first single-piece, un-welded Side Pocket Mandrel (SPM) for the upstream oil and gas industry – removing an integrity risk dating back more than 30 years.
The NexLift Side Pocket Mandrel is machined from one solid steel bar – replacing aged SPM technology traditionally comprised of four components and entirely removing the challenges created by welding and heat-treatment.
Until now, achieving consistently high-quality manufacturing of traditional SPM technology has left the industry susceptible to the complete failure of the mandrel, or issues associated with operations to replace valves in SPMs, the latter being a common problem.