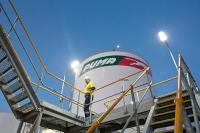 Puma Energy, the globally integrated midstream and downstream energy company, has announced that it has signed a purchase agreement with BP to buy its bulk storage fuel terminal in Belfast, Northern Ireland. The addition takes Puma Energy's global network of bulk storage terminals to 100, culminating in a total storage volume of 7.9 million m3 of storage capacity. This acquisition builds on the purchase of the 1.4 million m3 capacity Milford Haven Terminal in 2015, further supporting Puma Energy's growth within the European Market, and helping to ensure high quality, reliable fuels supply to Northern Ireland.
The Belfast Terminal provides storage for gasoline, distillates and aviation fuels, with road gantry loading facilities and a Jetty Berth capable of handling MR class vessels. The site comprises 20 bulk fuel storage tanks with a working capacity of ca. 143,000 m3. The 53-acre former refinery site is located between George Best Belfast City Airport and Belfast Harbour in NI. The refinery was opened in 1964 and converted to a Terminal in 1982.
Puma Energy has a wealth of experience in the construction, maintenance and operation of terminals and offshore mooring systems to the highest international standards.
Commenting on the acquisition, Puma Energy's CEO Pierre Eladari says, "This deal marks an additional milestone in the growth of our business, further supporting Puma Energy's position as one of the largest independent, integrated midstream and downstream companies operating today."