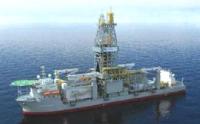 Pura Vida Energy NL advise that the Atwood Achiever Drillship has spud the MZ-1 well and commenced drilling operations within the Mazagan permit, offshore Morocco.
Based on the well plan, drilling is expected to continue for approximately 2 to 3 months. MZ-1 will be drilled by the Atwood Achiever (pictured). The Atwood Achiever is a dynamically positioned ultra-deepwater drillship capable of operating in water depths of 3,658 metres (12,000 ft) and drilling to depths of 12,200 metres (40,000 ft).
The MZ-1 well is ideally positioned at a location where a single well can test multiple stacked targets in each of the Cretaceous and Jurassic levels.
In the Cretaceous, the well is expected to intersect large structural four way dip closure at two levels (see Figure 3). In the Jurassic, the well is expected to intersect large turbidite basin floor fans which are combined stratigraphic/structural traps.