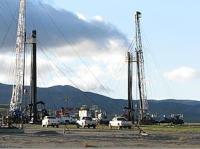 Pyramid Oil Company announced that John Alexander has retired as president and CEO, a position he has held since 2004. Mike Herman, chairman and the Company's largest shareholder, has assumed the role as interim president and CEO.
Mr. Herman, who has served as chairman since 2005, joins the executive management team with extensive experience in the oil and gas industry. He currently is chairman and CEO of Denver-based energy services company ENSERVCO Corporation, a publicly traded provider of well enhancement and fluid management services. He also has been active in private oil and gas exploration and production businesses since the mid 1980s.
Mr. Alexander, who joined Pyramid as vice president and a director in 1986, will also step down from the board. However, he will continue to serve the Company as a consultant during the coming year.