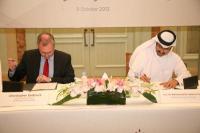 Qatar Liquefied Gas Company Limited (4) (Qatargas 4) and E.ON Global Commodities SE (E.ON) signed a flexible SPA for five years starting in January 2014 and covering a volume of approximately 1.5 million tonnes of LNG per year.
The LNG will come from Qatargas 4 (Train 7), a joint venture between Qatar Petroleum and Shell, and will be delivered on-board Q-Max LNG vessels to the Gate LNG Terminal in Rotterdam, Netherlands.
His Excellency Dr. Mohammed Bin Saleh Al-Sada, Minister of Energy & Industry and Chairman of the Board of Directors of Qatargas, signed the SPA on behalf of Qatargas 4, while Christopher Delbrück, CEO of E.ON Global Commodities SE, and Richard Baylis, Director of LNG, E.ON Global Commodities SE, signed on behalf of E.ON. Klaus Schäfer, CFO of E.ON SE, also took part in the ceremony in Doha.
His Excellency Dr. Mohammed Bin Saleh Al-Sada welcomed the signature of the SPA as "another milestone in Qatar's supply of clean energy to the world". Dr. Al-Sada said: "We are very pleased with this agreement as it marks the beginning of a relationship between Qatargas, the largest LNG producing company in the world, and E.ON SE, one of the world's largest investor-owned power and gas companies."