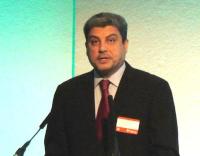 Qatargas' Chief Operating Officer – Commercial & Shipping, Alaa Abujbara, shared Qatargas' views on the European energy market, the current and future role of LNG, the influence of new energy policies and Qatargas' marketing activities across Europe.
Speaking at the annual Flame conference held in Amsterdam from May 19-22, Mr. Abujbara's presentation was titled "European LNG Supply and Demand Implications".
Mr. Abujbara discussed key events in Europe's recent energy history, beginning with the consumption of coal in the fifties, how this trend led to the great smog of 1952, which in turn inspired the use of cleaner fuels over the next decades. Mr. Abujbara continued by pointing out the recent return to coal in the energy mix and he then asked the question if Europe was coming full circle by returning to coal.