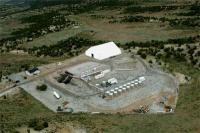 Questerre Energy Corporation report on the test results from its fifth horizontal well at 05-23-63-6W6M (the "05-23 Well") in the Kakwa-Resthaven area of west central Alberta.
The 05-23 Well is approximately two miles west of the existing producing wells on its joint venture acreage and 70m to 100m deeper vertically. The well was successfully completed with a seven-stage slick water fracture stimulation in the 1400m horizontal section. The well was tested for a 170-hour period thereafter.
Over the last 24 hours of the production test, the well flowed 815 bbl/d of condensate and 3.7 MMcf/d of natural gas against anticipated gathering system pressure of approximately 2000 kPa (290 psi) on choke sizes ranging from half inch to one inch. During the entire test, the well flowed at an average condensate to natural gas rate of 195 bbls per MMcf. The well will be tied into the local gathering system shortly. Questerre holds a 25% working interest in the 05-23 Well.