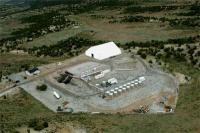 Production from Questerre Energy Corporation's joint venture acreage resumed earlier this month following a scheduled shut-down for third party processing plant maintenance. Current production, net to Questerre, from this acreage is approximately 1,000 boe/d. This includes initial production from the three horizontals with lateral legs of approximately one and a half miles that were equipped and tied-in over the last month.
These are the 09-20-63-5W6M well (the "09-20 Well"), the 02-18-63-5W6M well (the "02-18 Well") and the 08-20-63-5W6M well (the "08-20 Well"). Combined with light oil production primarily from Saskatchewan, total Company production is now about 1,500 boe/d.
Completion operations are scheduled to commence shortly on three recently drilled wells on the joint venture acreage including the 04-19-63-5W6M well (04-19 Well) well, 01-14-63-6W6M well (01-14 Well) and the 03- 30-63-5W6M well (03- 30 Well).