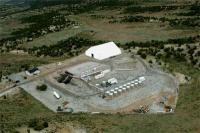 Questerre Energy Corporation has entered into a memorandum of understanding ('MOU') with the Ministry of Energy and Mineral Resources of the Hashemite Kingdom of Jordan for the appraisal and development of oil shale acreage in Jordan.
The MOU encompasses two blocks covering 388 square kilometers in the Isfir-Jafr area, approximately 200 km south of the capital, Amman. To date, a total of 35 core holes have been drilled on these two blocks by the Natural Resources Authority of Jordan. The Company is analyzing available data from these wells to develop its work program.
The primary objective of the work program will be to assess the acreage for potential oil shale development. The assessment will include economic viability, geologic, geophysical, hydrological studies as well as the feasibility of internal project electrical generation using oil shale. The initial term of the MOU is two years and may be extended. The Company estimates its commitments could be range between $3 million - $5 million over the two year initial term of the MOU. Subject to results, the Company intends to develop a subsequent work program that would be conducted during the initial phase of a future concession agreement.