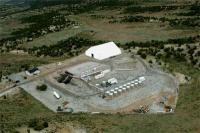 Questerre Energy Corporation reported on the results of its second core hole program for its oil shale acreage at Pasquia Hills, Saskatchewan.
Michael Binnion, President and Chief Executive Officer, commented, "These results are better than we expected and confirm that our acreage overlies a well-established oil shale deposit. We will use this core data, along with the data from our first program, to commission an independent resource assessment early next year." He added, "We expect to convert these resources into reserves with Red Leaf's EcoShale process. Red Leaf is securing the final permits and should begin work in the field for the first commercial scale capsule this December."
The six-well core program was completed in the fall of 2012 on the eastern block of Questerre's acreage in the Pasquia Hills area of east central Saskatchewan. 653m of good quality core was cut as well as a full suite of drilling logs over the target Second White Specs shale. All the wells drilled encountered the target formation with a minimum thickness of 26m and a maximum of 59m. This follows the first 10-well program on the western block where over 30m of the shale was cored in all the wells drilled.