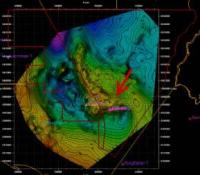 Tangiers Petroleum Limited advise that the Ralph Coffman jack-up rig commenced drilling operations at the TAO-1 exploration well, offshore Morocco on the 26th June 2014.
The TAO-1 well is located within a proven petroleum system, adjacent to the Cap Juby heavy oil discovery and has been designed to test up to three stacked objectives, Assaka (Upper Jurassic), Trident (Middle Jurassic) and TMA (Lower Jurassic, contingent upon success at Trident/Assaka).
The secondary objective, Assaka, and the main objective at Trident are scheduled to be intersected within approximately 2 months. Contingent upon the results at Assaka and Trident, the Joint Venture will then make a decision to deepen to the TMA objective. The well plan does not include flow testing.