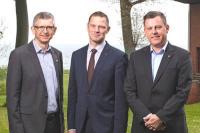 A joint venture between Ramboll Oil & Gas and Semco Maritime has been rewarded an EPC contract for the provision of onshore and offshore services at Hess Denmark's platforms in the Danish North Sea.
Under a comprehensive framework agreement, Ramboll and Semco Maritime will provide end-to-end services covering engineering, procurement, quality assurances and offshore manpower as well as handle the full responsibility for construction projects at the Hess platforms located in the South Arne field. The purpose of the agreement is to maintain existing oil production levels and to facilitate opportunities for further field development, with the support of the two companies.
The two Danish-based engineering companies have worked for Hess Denmark on the South Arne complex for several years. And after 3 years of heavy field development activities, Hess has started oil production from two new platforms and 11 new wells. The joint venture partnership between Ramboll and Semco Maritime will include coordination and problem-solving in close cooperation.