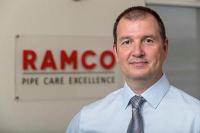 RAMCO, an international specialist in the care and maintenance of oil country tubular goods (OCTG) has recruited experienced oil and gas industry manager Jason Hughes to run its growing business in Australia.
The appointment will allow RAMCO greater scope to progress its ambitious Total Tubular Management plans in Australia. From its base in Karratha, the Scotland headquartered company provides tubular storage, care, maintenance and preparation services for oil and gas operators in the region.
Hughes has more than 25 years of industry experience in technical, project management, business development and general management roles. His most recent leadership roles were with EnerMech and GE Oil and Gas, based in Perth.
RAMCO works with most major operators and OCTG suppliers in Western Australia and partners with key contractors ensuring that a class leader customer experience is consistently delivered. It has a dedicated 100,000m2 facility using its bespoke PCU3 technology, designed to offer operational efficiency for internal and external cleaning and treatment of drill pipe, casing and tubulars.
Jason Hughes, Australia general manager at RAMCO says, "I am pleased to work with a company that offers a genuine differentiator to oil and gas markets. RAMCO's tubular care services, combined with innovative technologies, is an ideal match. I'm looking forward to supporting our customers as activity continues to increase in the region."
"We have a dedicated team in Karratha to lead current projects and will continue to build new relationships with customers, partners and suppliers. The cleaning and quality control we offer is filling a gap in the tubular lifecycle. Our contacts offshore are responding to the value it creates for their businesses in terms of time and cost savings," concludes Hughes.
Zak Fleming, operations director at RAMCO, says, "Jason has joined at a time when drilling activity is showing tentative signs of recovery. He has many years of experience in the region and will ensure our people and equipment are strategically placed to best serve customers in some of the world's most challenging locations."
"OCTG are in demand and our success of cleaning, refurbishing and delivering tubulars back to customers using our people and equipment in remote locations, such as Karratha, means less have to be shipped from Perth or abroad at significant expense," adds Fleming.