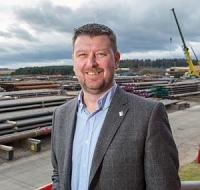 Independent oil and gas industry specialist Ramco has committed to growth plans in the Middle East with a key move.
Business development director Rob O'Neill has made a strategic move to Abu Dhabi to support the business as the company looks to drive modernisation of Oil Country Tubular Goods (OCTG) through Total Tubular Management practices with operators, contractors and partners.
Ramco, which has a 40-year history in the Total Tubular Management of OCTG in the upstream oil and gas industry, is mapping out current practices on behalf of a number of National Oil Companies (NOCs) to demonstrate efficiencies in the storage, care, maintenance and preparation of tubulars across the supply chain.
He says, "Drilling activity levels remain high and we see a significant opportunity for the efficiencies that Ramco can deliver for operators around a Total Tubular Management programme for OCTG."
"We have proven pipe care unit (PCU) technology that can be quickly deployed, supported by local expertise to oversee operations. I look forward to further developing our relationships with operators and our partners in the region, demonstrating the benefits of a Total Tubular Management approach supported by our newly developed ROMS operating system," adds O'Neill.
The Ramco team will be meeting with suppliers and customers at ADIPEC 2017, 13-16 November. Ramco will be exhibiting as part of Scottish Development International.