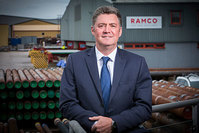 Aberdeen-headquartered Ramco Group has appointed former Dominion Gas managing director Russel Davies as its new CEO.
The independent oil and gas industry specialist has made the move as former CEO Derek Smith stands down after a successful three years, relocating back to the central belt of Scotland.
The international firm manages the care and maintenance of Oil Country Tubular Goods (OCTG) for the upstream oil and gas industry and is backed by private equity investor Lloyds Development Capital (LDC)
Russel Davies originally trained as a civil engineer and became a chartered engineer in the early 1980s before embarking on a 30-year career in oil and gas. He has built a global career, including 15 years with ExxonMobil in positions ranging from subsea engineer and offshore installation manager to project manager.
Joining Dominion Gas in 2008, Davies became projects director, setting up a new business unit in Ghana, West Africa. He also supported the development of the company's portable packaged gas filling system. From 2010, he was group managing director, leading the business through its successful sale to Praxair Inc.
Ramco Group was led through a growth phase against challenging market conditions by Mr Smith, who was previously the CEO of ASCO Group. The investment strategies have paid off in terms of market share and internationalisation and Ramco marks its 40th anniversary in business this year.
Davies says, "Ramco has made significant investment in its people and processes recently to benefit customers. I'm looking forward to further developing this well established and respected global brand leader in oil country tubular goods and taking the company on the next stage of its evolution."