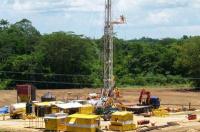 Range is pleased to advise that the sale of Range Resources Drilling Services Limited to LandOcean Energy Services Co. Ltd., has completed.
In accordance with the Sale & Purchase Agreement, Range has received the remaining sale proceeds of US$2.07 million (total received US$4.37 million). Additionally, at the date of completion RRDSL owes Range approximately TT$10 million (US$1.6 million), which is inclusive of a US$0.5 million dividend payment declared by RRDSL and payable to Range. This receivable will be offset against future invoices in respect of drilling services.
As previously announced, RRDSL will continue to provide full oilfield operations services to Range in Trinidad. Range and LandOcean have finalised the Trinidad Drilling Contract agreement, as an extension of the Integrated Master Services Agreement (signed in May 2014) with services to be provided on a turnkey basis and priced in line with market rates in Trinidad, to be reviewed periodically by both parties.
Range is pleased to advise that within the drilling contract LandOcean has agreed to provide extended credit terms of 12 months on drilling related invoices payable to RRDSL. This will ensure that Range is able to accelerate its planned exploration and development programmes in Trinidad, which is critical to grow production. Interest will be payable by Range on any third party costs contained within the invoices at the rate of 10% per annum (being the rate stipulated in the Integrated Master Services Agreement signed in May 2014).