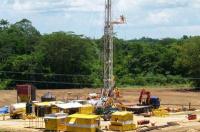 Range Resources has completed the sale of its Texas assets to Citation Resources Limited.
As part of the sales proceeds Range has received a AU$500,000 cash payment, a carry on the Guatemalan assets to the value of AU$830,000, a forgiveness on monies owed by Range to Citation to the value of AU$189,000 and 200 million new ordinary shares in Citation.
Range also has the right to appoint one Director to the Board of Citation, provided that Range holds a minimum of 100 million Citation shares. Range has not appointed any Director at this time but will keep this option under review.