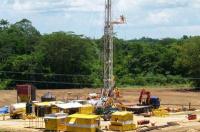 Range Resources says that following the inaugural Operating Committee meeting held earlier this month with Joint Operating partner, the State Oil and Gas Company of Trinidad and Tobago Limited (Petrotrin), the two companies have finalised an exploration work programme and budget for 2015 on the highly prospective St Mary's block in Trinidad.
The exploration work programme for 2015 is planned to commence in the second half of the year, and consists of: •Audit of existing field infrastructure, facilities and wells; •Preparation for environmental permitting to commence Electro Magnetic Surveying (Stratagem); •Preparation for environmental permitting for drilling; and •Tendering for drilling rig, equipment, and other oilfield services.
As required under the Joint Operating Agreement, Range will also prepare a work programme and budget for 2016, which will include both exploration and development components. In addition to significant exploration potential of the St Mary's block, there are additional development opportunities associated with pre-existing fields. Range and Petrotrin would seek to carry out simultaneous programmes for both exploration and development, subject to further technical review.