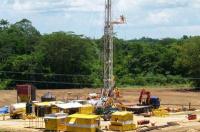 As part of a corporate restructuring initiative, Range announces the resignation of Mr. Peter Landau and Mr. Anthony Eastman from the Board of Directors, effective immediately.
The Board has initiated a recruitment process for two Australian Directors to replace the outgoing Directors, as required by the listing rules of the Australian Stock Exchange.
Commenting on today's announcement, Sir Samuel Jonah, Chairman, said:"I would like to thank Peter and Anthony for their dedication and contribution to the Company. On behalf of the Board, I wish them all the best in the future.
I am also extremely pleased that Range now has a new executive team with a very focused strategy to increase production from Trinidad, rationalise the portfolio and create value for its shareholders."