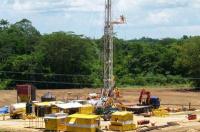 Range provides the following update with respect to its development programme in Trinidad.
Production overview
The average production in Trinidad in May was 620 barrels of oil per day (bopd).
For the first time in Range's history and despite the challenging oil price environment, the Company has positive operating cashflows across the Group at current levels of production following the sale of the drilling business.
Range strives to be a low cost operator and at a WTI price of US$60 / barrel, the Company is cashflow positive at and above a 510 bopd production level (this figure is before any exploration and development capital expenditure).
Drilling operations
Following the announcement on 13 May 2015, Range has completed drilling the QUN 158 well located on the north flank of the Southern Range anticline on the Morne Diablo field. The QUN 158 well is the first development well of the first 13 development and exploration wells to be drilled this year.
The well was spudded on 15 May 2015 and took 11 days to drill to a target depth of 2,000 ft. The well was drilled by drilling services contractor, Range Resources Drilling Services Limited (RRDSL), using drilling Rig 6.