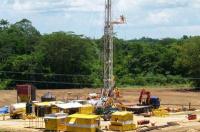 Range is pleased to advise that the third development well of the 22 well programme, the GY 161 S well spudded on 27 November 2015 and is drilling ahead to a total depth of 2,000 ft. It is expected to take approximately 21 days to reach target depth. The GY 161 S well is the second development well to be drilled by the Company on its Beach Marcelle field. Depending on results, the well may be used as part of a waterflood pattern in the future.
The drilling services are being provided by Range Resources Drilling Services Limited, a wholly owned subsidiary of LandOcean Energy Services Co., Ltd. The well is being drilled using rig 2.
The 180SE was the first well drilled on the Beach Marcelle block earlier in November. The log evaluation has been completed and the results are encouraging. A total of 72 ft. of net oil sand has been encountered and the Company is looking to submit for approval to perforate the well.