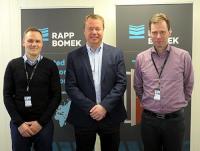 Rapp Bomek has appointed Jan Eirik Karlsen as its new Chief Technology Officer and Erik Forsaa as its new Supply Chain Director.
"Both Jan Eirik and Erik have unique backgrounds which is going to strengthen Rapp Bomek in the future. I strongly believe that both of them are going to make valuable contribution from their respective responsibility areas in a demanding market situation where our ambition is to grow with help of continuous improvement. Both Jan Eirik and Erik has experience from significantly larger organisations and they bring with them a lot of valuable experience to Rapp Bomek, where the ability to create results and demonstrate power to act, are going to be important factors" says Terje Bøe, Rapp Bomek CEO.
Jan Eirik Karlsen holds a degree in engineering and has taking additional education in the field of project management. In addition, Mr. Karlsen is a certified sheet metal worker. He has been working in the oil and gas industry in his whole working life and comes from a position as project manager and site responsible for Aibel`s location and organisation in Hammerfest and has had various manager positions in Abel since 2002.
"I am looking forward to become a part of Rapp Bomek and lead the company's activities within project implementation and technical services. The company has a very strong international market position and I am looking forward to contribute to further development" says Jan Eirik Karlsen.
Erik Forsaa has been appointed the new Supply Chain Director of the company. Mr Forsaa holds a degree in engineering in manufacturing and also has an Executive Master in Management. He comes from the position of Director of Purchasing and Supply Chain from Bergen Engines (Rolls-Royce), and he has worked in the Rolls-Royce concern since 1996 and had a various manager positions in the field of supply chain.
"I am very pleased to be offered this position with the challenges and opportunities it represents. Rapp Bomek experience an extensive price pressure on an equal basis with the other actors in the industry and I will together with my team work hard and dedicated to realise cost reductions in order to meet today's market situation" says Erik Forsaa.