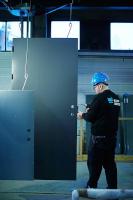 Rapp Bomek has stepped up its acquisitions of the market for safety solutions for energy, civil and defence markets worldwide by agreeing to buy the Oslo-based company Mil Sec Norge AS.
The agreement will enable Rapp Bomek to become a fully integrated supplier of high end security solutions for major construction projects, infrastructure and defence.
Under the terms of the agreement, Rapp Bomek will buy all of Mil Sec's shares and will now offer a complete range of advanced door, window and wall safety solutions for global energy, civil and defence markets. Combined with the latest state of the art production facilities we will now be able to deliver turnkey solution on EPCIC basis.
Mil Sec Norway AS is a security company that provides integrated solutions for companies and organisations. Their customers include several ministries, government agencies, the royal court, police, banks, defence and a number of private companies.