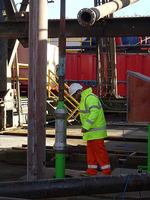 Aberdeen-based technology start-up, Raptor Oil, has secured GBP 4.2 million of investment in a Series C funding round.
The round, led by Statoil Technology Invest (STI), was completed on 15 December 2017. It includes investment from ConocoPhillips and new investor Scottish Investment Bank, the investment arm of Scottish Enterprise. In addition, funds were granted by The Oil & Gas Technology Centre.
Raptor, formed in Aberdeen in 2011 by Dr Colin MacLean and Mr Gordon Cowie, is developing a groundbreaking acoustic telemetry system for use during well construction and production. It will replace traditional mud pulse telemetry during drilling and provide a 10x improvement in performance. The company has been through several phases of technology development and concept validation culminating in a successful three-week well test in November 2017.
The company currently has six employees and will be looking to double technical staff as is it moves from research and development to the commercial phase.
Raptor's CEO Gordon Cowie says, "After two very successful blind tests of our wireless telemetry system, which demonstrated its plug and play adaptability and high data rate capability under various operational conditions, the company welcomes the investment from Statoil Technology Invest, ConocoPhillips, the Scottish Investment Bank, and also the support of The Oil & Gas Technology Centre. The funds will be used to strengthen the core development team and to further develop and commercialise the system across a number of key application areas."
STI investment manager Ivar Aune says, "The investment in Raptor demonstrates STI's willingness and ability to identify and support companies that are developing disruptive technologies aimed at solving the future challenges of the oil industry. In order to ensure the survival of our industry, it is important that skilled entrepreneurs are provided with access to capital so that they can develop their products and bring these to the market. STI has a portfolio of more than 20 companies and are continuously screening for companies that, like Raptor, are developing technologies that can be implemented in our operations and provide significant gain."
Kerry Sharp, Director of the Scottish Investment Bank says, "In 2015, Raptor was the first company to be awarded SE's Seek & Solve grant designed to stimulate innovation in growing Scottish companies with an international perspective and ambition. Raptor has made significant strides with its R&D programme since then and we are continuing our support by investing directly in the company alongside experienced industry players to help fund the next stage of Raptor's business plan."
Malcolm Banks, Well Construction Solution Centre Manager at the Oil & Gas Technology Centre says, "We're pleased to be supporting Raptor Oil with the development of this new acoustic telemetry technology, which has the potential to transform the performance of well delivery. Helping improve the efficiency and reduce the costs of offshore drilling activities is a priority for the Oil & Gas Technology Centre. We believe this solution, which provides high-speed wireless data transmission through the drill string, can provide high quality data to enable better decision making during drilling operations. We look forward to working closely with Raptor Oil and its partners."