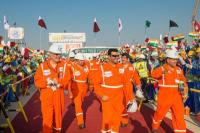 RasGas Company Limited celebrated an unprecedented record of 100 million work manhours Lost Time Incident (LTI) free at a ceremony in Ras Laffan this morning. This impressive achievement became a reality as a result of RasGas' on-going commitment to safety and through its stringent safety strategies, systems and processes.
The celebration was attended by His Excellency Dr. Mohammed Bin Saleh Al-Sada, Minister of Energy and Industry and Chairman and Managing Director of Qatar Petroleum, Hamad Rashid Al Mohannadi, RasGas Chief Executive Officer (CEO), RasGas Board of Directors, Barzan Executive Committee, President and General Manager of ExxonMobil Qatar Inc., RasGas' Executive Leadership Team, international dignitaries as well as representatives from the various contractors and sub-contractors. It was also attended by 10,000 of the multi-national contractor site workers who made this amazing achievement possible.
During the celebration, welcome speeches were given by Mr. Al-Mohannadi and Mr. Bseiso, RasGas Chief Venture Officer and a short film on the record achievement was also shown. Guests later visited the Barzan construction site, where H.E. Dr. Al-Sada in his speech recognised and congratulated the contract workers and toured the project site.