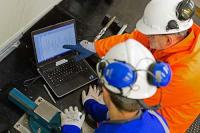 Determined to stay agile in the current market and with a commitment to delivering fast, accurate answers to its customers, well intervention specialist READ Cased Hole has launched ZeroTime in an era when the industry is in need of innovation to achieve a step change in efficiency and cost optimisation like never before.
Through close collaboration with a select number of multinational operators and global oil and gas companies, ZeroTime has been tried and tested under the rigours of the North Sea, establishing an outstanding track record for operational efficiency along the way. As a logging while working solution ZeroTime facilitates precision diagnostic data to be acquired during high-force mechanical interventions. By integrating into almost any bottom hole assembly, ZeroTime eliminates the need for standalone logging runs, simplifying well interventions and delivering critical decision-enabling answers in a significantly reduced time frame. READ's ZeroTime client case studies demonstrate how the elimination of dedicated well surveys results in saving of circa 24 hours, and associated operating costs, per well intervention, as well as significantly reducing the risk of safety incidents.
The combination of smart technology and specialist knowhow significantly reduce operating time without compromise to operational performance or with regards to the accuracy of the acquired data. ZeroTime services comprises of the use of a novel, ruggedised, memory logging system deployed in specifically designed high-strength carrier assemblies for use in slickline, coiled tubing and drill pipe conveyed well interventions. READ's specially trained engineers perform on-site analysis using bespoke software applications to deliver detailed and to-the-minute downhole intelligence which operators can use to assess the effectiveness of interventions enabling rapid, decisive decision making to enhance their next move.
"It is crucial for the industry to more quickly adopt innovation and technology," says Greg Herrera, Senior Partner of Energy Ventures, "and we believe that it's technology that will come to the rescue of cost escalation in the oil and gas sector. We are proud to see READ at the forefront of using technology to reduce costs while reducing exposure to risk."
"We are thrilled to be launching ZeroTime at ICoTA in Houston this year and look forward to the opportunity to position ZeroTime as the "go-to" solution when it comes to safe and efficient logging while working. A number of our clients have seen the benefits of ZeroTime, but it's still early days – we are confident that more operators will see it as the reliable technology to acquire fast, actionable intelligence to help save valuable time and resource", says Roy Martin, READ CEO.