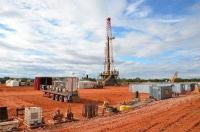 Real Energy Corporation Limited has commenced drilling on its maiden well, Tamarama-1.
The Tamarama-1 well is Real Energy's maiden exploration well in the Cooper Basin, aimed at confirming the presence of gas in the Toolachee and Patchawarra formations and determining reservoir productivity.
A secondary objective of this well is to obtain samples from the Toolebuc Shale to further our knowledge of this potential shale oil play. The well is expected to take approximately two and a half weeks to drill and complete from spud date. ATP 927P is surrounded by proven and producing gas and oil fields operated by Santos, with gas production being used to feed growing demand for east coast gas.