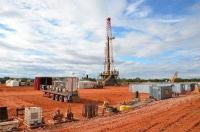 Real Energy Corporation Limited (Real Energy), reported that completion and testing operations are progressing well on its two maiden Cooper Basin wells, Tamarama-1 and Queenscliff-1 in Queensland, Australia.
Real Energy can confirm that gas has flowed to surface at Queenscliff-1 and the company plans to complete and test several zones in each well, covering both the Patchawarra and Toolachee formations.
Queenscliff-1 has been perforated and flow tested over the Toolachee and Patchawarra formations interval, while at Tamarama-1 the pressure build-up survey of the upper Patchawarra Formation section has been completed and the Toolachee Formation will be perforated and tested in the next few weeks.