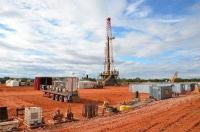 Real Energy Corporation Limited has been successful in its tender for Queensland Petroleum Land Releases PLR 2014-1-4, located to the east of ATP927P and south of ATP917P.
The permit covers an area of approximately 1,043 km2 and will increase Real Energy's total acreage position in the Cooper Basin to 9,357 km2. The permit will be granted after Native Title Agreements and other environmental requirements are met.
Real Energy believes the permit is prospective for the basin centred gas play in the Toolachee and Patchawarra formations, which the Real's exploration activities are focused on, as well as a number of leads and prospects for Conventional Oil.