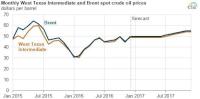 The US Energy Information Administration's new Today in Energy brief looks at OPEC's recent agreement to reduce oil production.
According to the report, "EIA adjusted the December STEO by reducing OPEC's crude oil production by 100,000 b/d in the first quarter of 2017 to 32.8 million b/d. The difference between OPEC's and EIA's production estimates reflects, in part, differences in production in Indonesia, Libya, and Nigeria, which are not participating in the agreement. OPEC's agreed-upon output levels for early 2017 were similar to EIA's November STEO forecast, and already included some expectation of slower production growth in 2017…A price recovery above $50/b could contribute to supply growth in U.S. tight oil regions and in other non-OPEC producing countries that do not participate in the OPEC-led supply reductions. Crude oil prices near $50/b have led to increased investment by some U.S. production companies, particularly those operating in the Permian Basin in Texas and New Mexico."
The Today in Energy brief is available at the EIA's website.