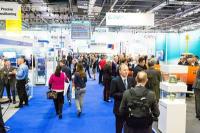 Unaudited figures show that approximately 8,400 attended Oceanology International 2014 (OI2014), an increase of 10% over 2012.
Exhibitor figures at the world's largest marine technology and ocean science show were higher than ever before with 528 exhibiting companies from 35 countries.
Vessel movements in the display area outside the show also proved a record-breaker with 148 movements during the three days with 1198 people aboard (902 of them visitors) and a record number of 13 visiting vessels.
By the close of play on 13 March 190 exhibiting companies had reserved over 5,000m2 of space for Oceanology International 2016 which will take place on 15-17 March 2016 at the ExCeL centre.