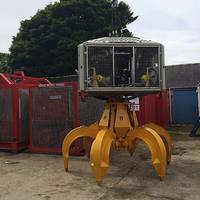 Scantrol recently mobilised an Active Heave Compensation (AHC) Upgrade system in less than 4 hours for Aberdeenshire based solutions provider Aleron Subsea. The system will be used in a profiled Salvage operation to find Britain's lost treasures from the World Wars.
"We were able to ship off a complete AHC system in only 3 hours and 26 minutes due to a highly standardised control system and good communication with the customer. The system was already configured before shipment. In today's subsea market we need to be able to turn around quickly when a customer needs an AHC system to get the job done. Upgrading an existing system is a cost-efficient and time-saving solution when working on a tight time-line," explains Rolf Krogh Hjelmeland, Business Development Manager for Scantrol AHC.
"Our AUXROV system was working in some of the harshest conditions in a wreck at 120 meters in more than 4 meters of swells. The AUXROV was in the water for over 90 hours at a time with all systems working perfectly. The winch was in active heave all the time and Scantrol system operated faultlessly," explains Chief Executive Operator (CEO) at Aleron Subsea, Mike Bisset.
Aleron Subsea was appointed by James Fisher Marine and Britannia's Gold Ltd (BGL) to utilise their AUXROV system to assist their highly profiled Salvage operations targeting wrecks that sank during Worlds Wars 1 and 2. This is the first of a series planned operations by BGL.
Working with a tight timeline to mobilise the equipment Aleron Subsea contacted Scantrol, whom they have done AHC retrofit with previously.
"The last AHC upgrade we did together was successful and we are pleased to work with Scantrol again on this project. We gave them a few days' notice to supply an active heave system for our 30 Ton winch which worked absolutely perfectly," reveals Bisset.
The order was received on Monday lunchtime. The Scantrol team quickly turned around to meet the tight timeline of one day delivery time. Martin Nybø, Service Engineer at Scantrol, and his colleague, Johannes Sletteskog, managed to get the system assembled and tested before the end of the day and shipped off to Aberdeen on the same night. When Martin arrived the test site Tuesday morning together with the control system, the winch had only just been rotated by means of a hydraulic lever. Scantrol took advice from their associate UK Company, Dynamic Integrating Ltd, who vetted the hydraulic system for AHC compatibility. This reassurance took no time at all and Scantol were able to give Aleron a quick and confident solution.
"By Tuesday evening we had the whole control system up and running, and were able to control the winch from it. Wednesday at lunchtime the system was fully commissioned and we were running dynatests showing promising compensation levels. In less than two days we had successfully integrated the control system with the winch and had it ready for shipping. This was achieved due to our standardised AHC solutions for different applications and to a dedicated and efficient team of engineers working on this project," explains Martin.
The AUXROV was configured with a 30-tonne winch and 30-tonne A-frame in order to provide the client with valuable information on the contents of the grabbed materials in real time. It was able to enter several constrained hard to reach areas of the site assisting in the overall efficiency of the operation. The AHC functionality gives the operator the possibility to stabilise the load, but still use the familiar control system for manual handling of the winch. Having AHC functionality on the AUXROV system saves the operation from downtime due to bad weather conditions. This means that the vessel will be able to continue the operation in harsh sea and the operator can perform safe and reliable operations.