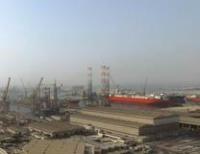 Drydocks World has serviced a record number of 40 vessels in the Dubai yard.
With 40 vessels simultaneously in Drydocks World facilities—more than ever before in Drydocks World's history—the 9,000+ workforce diligently worked across the yard to provide quality and efficient services to all types of vessels such as tankers, drilling rigs, bulk carriers, dredgers, gas carriers, containers, & barges. This achievement reflects the trust owners have in Drydocks World to ensure safe, timely and quality services.
The UAE is a strategic maritime location and center for trade, with Drydocks World possessing the state-of-the-art infrastructure to meet the demands of the worldwide maritime industry, according to the highest standards in international operational excellence. Drydocks World has surpassed the previous record of 37 vessels in the yard, with breaking records and reaching new levels of achievement playing an integral role in Drydocks World's culture of continuous innovation and improvement.