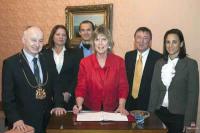 Reflex Marine welcomed personnel from Coastguard section of the Brazilian Navy into Aberdeen last week for testing with the company's innovative crew transfer technologies.
Representatives from the Diretoria de Portos e Costas (Directorate of Ports and Coasts) explored Reflex Marine's industry leading FROG capsule and witnessed immersion, load, vertical and lateral impact tests of both the company's FROG-6 and newly launched FROG-XT.
Reflex Marine is currently working with the DPC to gain accreditation for the FROG to operate on board vessels registered in the country, although several operators have already put the device to use using foreign ships.
To continue developing important relationships in the energy industry between Aberdeen and Brazil, the Lord Provost of Aberdeen and Gordon McIntosh, director of Enterprise, Planning and Infrastructure at Aberdeen City Council met with Reflex Marine and the Brazilian delegates.