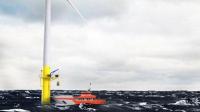 Reflex Marine is developing a new personnel access concept for the offshore wind and traditional energy industries, the SEA-SPIDER.
Crew welfare is at the forefront of the innovation, which will utilise winch based access – the safest and most established method for marine access to offshore structures. This offers an alternative to current access methods, such as, butting a vessel against the turbine structures and crews stepping onto a ladder.
The company has already received strong interest around SEA-SPIDER from operators in Europe.
CEO, Philip Strong commented: "It is essential that we continue to develop flexible and weather capable transfer solutions to meet the challenges of further offshore wind farm developments. We feel strongly that close collaboration with vessel designers, vessel operators and lifting specialists will allow us to develop improved practices, not only in the wind energy sector but wherever offshore personnel transfers are needed.