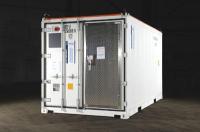 Reftrade UK has made a significant investment to upgrade its fleet with breakthrough, environmentally friendly technology.
The world's first refrigeration system to use CO2 as a natural refrigerant, NaturaLINE, has been installed in Reftrade UK's entire fleet. The innovative system has been designed by Carrier to reduce carbon dioxide emissions and reduce the power usage of each unit.
The six figure investment will see Reftrade UK take a market-lead as the only supplier of refrigerated containers to offer the environmentally friendly technology.
Greg Spence, managing director of Reftrade UK said: "Understanding our client's requirements and ensuring we are offering them the most pioneering refrigeration solutions on the market is important to us at Reftrade UK.