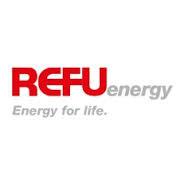 "One solution. Many possibilities." That's how REFUenergy describes their new REFUtower.The fact that this off-grid solution, launched in Q4 of 2014, is not only multi-functional but also has multi-ranging benefits is now official: the REFUtower has been awarded the Plus X Award in three different categories.
The jury of the world's largest innovation prize for technology, sport and lifestyle have adjudged the REFUtower as having the "Plus X" factor in the categories of Innovation, High Quality and Functionality. With its modular approach facilitating scalability and its various input and output options, the REFUtower fits in perfectly with the philosophy of the Plus X Awards: "Innovations for today and the future". That's because it not only provides electricity from regenerative energy sources but also increases the efficiency of the integrated diesel generators with, for instance, the Fuel Save solution.
As a result, the REFUtower is just as suitable to provide emergency power as it is to supplying electricity to telecommunication masts. This is all made possible by its output side which can supply 48V DC and 400V AC power.