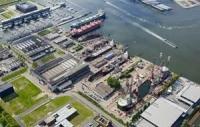 'Seajacks Leviathan' and 'Seajacks Kraken' are prepared for their coming assignments, following a series of repair and renewal jobs by Shipdock Amsterdam. The shipyard, part of Damen Shiprepair & Conversion, had been commissioned for the two jack-ups by Seajacks UK Ltd.
The Great Yarmouth (United Kingdom) based company has assigned the shipyard various and different major and minor adjustments on the two jack-up sister vessels in between North Sea offshore windfarm and oil & gas installation contracts.
'Seajacks Leviathan' first had its blade racks cut loose and removed after completion of a wind turbine and propeller blade operation. Subsequently, the self-propelled jack-up had a heli deck installed in Shipdock's 250 metre Panamax dock. This included all related drain and fire fighting piping. The heli deck had been prefabricated by Niron Staal, which too is a subsidiary of the Damen Shiprepair & Conversion division and is located on the shipyard's premises in Amsterdam.