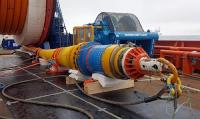 Subsea connector specialist, First Subsea, has supplied a relatchable bend stiffener connector to NOV Completion & Production Solutions for a flexible production riser for Statoil's Gina Krog, turret moored, Floating Storage and Offloading (FSO) vessel in the Norwegian sector of the North Sea.
The API 17L-1 compliant, Type II bend stiffener connector (BSC) comprises a ball and taper connector attached to a bend stiffener, which is pulled into a pre-machined, compact J-tube built into the turret. During pull-in the end fitting is fixed to the male BSC, once locked into the receptacle, the end fitting is detached, allowing the end fitting and 9-inch production riser to slide up into the J-tube.
First Subsea bend stiffener connectors are certified as Load Transfer Devices under API 17L1, setting a new benchmark for the performance of bend stiffener connectors in challenging and harsh offshore applications.
The Type II connector is self-energising and self-aligning, and features First Subsea's Automatic Release Clamp (ARC) enabling both diverless and ROVless riser and umbilical connections. For the Gina Krog project, the Type II connector also features a Re-Connect System (RCS) allowing the end fitting to be delatched and the riser uninstalled and reconnected again as necessary.