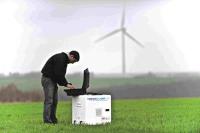 Renewable NRG Systems (RNRG) has announced the sale of its WINDCUBE® v2 LiDAR to VENTUS, a leading Uruguayan wind energy engineering consultancy firm. VENTUS will use the LiDAR for its wind resource assessment campaigns, power curve verification, and wind farm optimization requirements across Latin America.
VENTUS has acquired this user-friendly remote sensor to generate bankable wind measurements for its clients' projects. "We chose WINDCUBE because it is recognized as the market leading technology for superior performance in both wind resource assessment and wind farm performance monitoring. It will help us reduce measurement uncertainty and thus get easier, better financing," commented Juan Pablo Saltre, Founding Partner of VENTUS.
This sale underpins the growing interest in LiDAR in Latin America. The region has some of the best wind resources in the world. According to GWEC, Uruguay could have 2 GW of wind power installed by 2020, a target that could be easily exceeded if the planned grid interconnection between Uruguay and Brazil is to move forward.
"We consider Latin America to be one of the most promising wind power markets in the world. Wind energy project development is increasing at a rapid pace in the region, so we are not surprised to observe a growing interest in LiDAR due to its precision, reliability, and ease of deployment," said David Hurwitt, VP of Global Marketing & Product Management at Renewable NRG Systems.