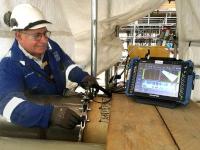 Forth Inspection Service (Aberdeen) recently hired advanced non-destructive testing (NDT) equipment from Ashtead Technology in order to develop sophisticated test methods as part of the quality control procedures for new gas pipelines.
The test procedures were developed and validated with Alness-headquartered Scotia Automated Inspection Services (a division of ShawCor UK ltd), who are responsible for the ongoing QC work. The rented equipment included a second generation Olympus OmniScan MX2-P2 Ultrasonic Flaw Detector in conjunction with an Olympus CHAIN Scanner Kit.
Forth Inspection's Darren Kinsella says: "Phased array ultrasonics have replaced radiography for reasons of safety, speed and probability of detection, and are now allowed in construction codes for pipe welds to meet the quality control requirements of numerous standards. With the benefit of the Ashtead equipment, we manufactured welded reference samples with seeded defects and conducted blind trials to assist in the development and validation of the test procedures.