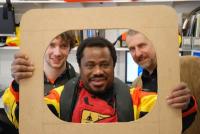 Research on the size and shape of the North Sea offshore workforce has revealed that some UK workers are larger than average American males and take up more space than earlier data had indicated.
Charting their body dimensions has also cast valuable light on their ability to escape through a helicopter window. Bigger individuals are less likely to be able to do so than smaller individuals, but the study has shown that size isn't everything.
The new findings from a joint research project into the size and shape of North Sea offshore workers by Robert Gordon University (RGU) and Oil & Gas UK in Aberdeen have been published in an academic journal following the completion of their high-tech study in 2015.