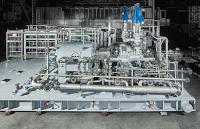 Just 3 years after launching it to the market, MAN Diesel & Turbo has announced orders for 20 units of its Refinery Train Package (ReTPac). Tailored specifically to the requirements of refinery operators, the modular and scalable turbomachinery concept combines centrifugal compressor and prime mover to a single-lift unit, serving refinery applications like hydro-treating and hydro-cracking.
"With development of the Refinery Train Package, MAN has responded early to market perspectives of refinery operators," says Dr. Uwe Lauber, CEO and Chief Technology Officer at MAN Diesel & Turbo. "Bearing in mind the volatility of the price of oil, the refinery sector increasingly requires flexible solutions that enable operators to implement their investment decisions quickly. As an efficient and scalable machinery concept with short delivery times, ReTPac precisely meets these requirements of our customers and is opening up the turbomachinery market for refinery applications."
The latest order comprises several trains that will be delivered to a refinery in Middle East. Commissioned by a leading European EPC company, the MAN Refinery Train Packages will here be deployed for the process of hydrotreating and so enable the production of ultra-low-sulfur fuels. As a result of more stringent environmental regulations, these fuels are increasingly in demand across the world.
In the same context, MAN's machinery concept has also been ordered for refineries in Asia, as well as Central and South America. "As a prime example, our 'ReTPac' design will support the efficient production of ultra-low-sulfur fuels in a refinery in Southeast Asia from the end of 2016," states Peter Klotzsche, Head of Sales & Contracts for the 'ReTPac' concept. "Specifically developed for processes such as hydro-treating, hydro-desulfurisation and hydro-cracking, the modular concept can be tailored to individual requirements in terms of CAPEX and OPEX."
In addition to the orders mentioned, MAN Diesel & Turbo is currently negotiating with several other EPCs.