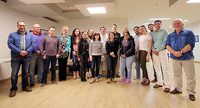 Aberdeen's Robert Gordon University (RGU) has delivered a pilot Sector Leadership Development programme in Mexico, to help maximise the country's growing oil and gas sector.
Mexico has a long and distinguished track record in terms of oil and gas production, however, to successfully deliver the new production targets, significant new skills and capabilities will be required across the industry.
Funded by the Prosperity Fund Programme run by the British Embassy in Mexico, the sector leadership programme was a key recommendation of the skills development framework project undertaken by RGU for Mexico in 2017.
RGU, in partnership with ITAM (Instituto Tecnológico Autónomo de México), delivered two, two-day workshops with participantsincluding future leaders from CRE (Energy Regulatory Commission), ASEA (National Agency for Safety, Energy and Environment), CNH (National Hydrocarbon Commission), SENER (Ministry of Energy), and AMEXHI (Mexican Hydrocarbons Association).
The workshops focused on key areas within leadership such as "Leading for Performance Excellence", "Building Positive Relationships", "Stakeholder Management" and "Leading Change", as well as insight into the oil and gas sector from both a regional and international perspective.
Professor Paul de Leeuw, Director of the RGU Oil and Gas Institute, was also able to provide one-to-one meetings with the participants to discuss specific challenges within their roles.
"As the Mexican oil and gas sector evolves over the next decade, with significant change for both the country and companies involved, it will be critical to have a strong and appropriate leadership and leadership development programme," Prof de Leeuw comments.
Commissioner Gaspar Franco from the National Hydrocarbon Commission (CNH), adds, "CNH are delighted to have two future leaders participate on this pilot Sector Leadership programme. Strong leadership within the regulators and agencies will be key to ensuring the future success of Mexico's hydrocarbon sector and it is important that we support the development of our future leaders now."
Anjoum Noorani, Head of Prosperity at the British Embassy in Mexico, says, "Leadership is the 'essential spice' which helps organisations change, grow and improve. Through the RGU/ITAM programme, we're delighted the Prosperity Fund can help share British experience to strengthen leadership in Mexico's excellent regulatory agencies and thereby help make energy reform work for all Mexicans."