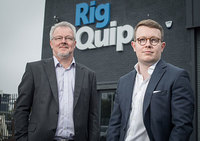 Drilling equipment manufacturer and service provider RigQuip is targeting significant growth by 2020, as the drilling market stabilises with new E&P activity internationally, and reactivation opportunities in the North Sea.
The business, which offers bespoke topside drilling packages and equipment servicing to the on and offshore oil and gas industries, aims to achieve turnover of approximately GBP 50 million in three years.
RigQuip's leadership team has seen an upturn in activity in 2017, with inquiries for rig packages in the region of GBP 30 million, and five-yearly equipment recertification projects ranging from GBP 750,000 to GBP 3 million.
RigQuip is an industry accredited expert in the engineering design, manufacture, supply and service of topside drilling equipment, including hoisting and lifting equipment, pipe handling systems, power and control systems, pressure control equipment, solids control and mud systems.
Founded in 2006 the company has a team of drilling design and manufacturing engineers, supported by a group of renowned technical authorities at its headquarters in Aberdeen, and has links with a previous entity acquired by Noble Drilling and later National Oilwell Varco.
Today, RigQuip is a family-run company, led by chief executive Craig Fraser and chief operating officer, Matt Fraser, his son.
They are supported by technical authorities Tim Scaife, previously director of service at National Oilwell Varco; Shaun Crowther, former director of technical support at National Oilwell Varco, and Bob Mutch, previously of Step Oiltools, Aker Solutions and Scomi as well as a team of experienced engineers and technicians.
Chief executive, Craig Fraser, says, "Our in-house technical authorities and the team of support engineers who lead the process of manufacturing and servicing topside equipment are key to our growth. They do absolutely brilliant work, which has secured our reputation for delivering innovation in product development, and excellence in ongoing customer support. We've maintained profitability during the downturn thanks to their hard work and ability to provide bespoke equipment and aftermarket care to our clients in the face of continuous cost challenges.
"RigQuip offers a credible, specialist alternative to US oilfield equipment and service providers – increasing efficiency and reducing cost burdens for rig owners and operators. What's important for us is that clients recognise our ability to reduce the cost and management burden related to their drilling equipment projects, whether that's new equipment or repair, maintenance or recertification of used equipment. Building the business and growing our turnover will only be possible through the entire team's continued drive and commitment, and we aim to grow our employee base throughout the process, to support new business worldwide," adds Fraser.
RigQuip is the only drilling equipment service provider in Europe which carries out its activities certified to the recently-introduced API Q2 standard, which is the most advanced industry accreditation available for drilling equipment service companies.
"There is continuous pressure on the industry – to achieve better performance and to maximise up-time, while maintaining greater cost efficiency, without compromising on quality and safety," says Matt Fraser.
"Our approach, in delivering a complete service from concept and design, to manufacturing and installation of topside drilling packages; maintenance and service during operations, is designed to provide reassurance to operators and rig owners that those targets can be met."