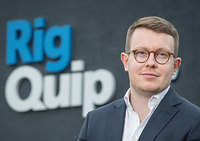 RigQuip has become the first company in Europe to achieve American Petroleum Institute (API) Q2 certification for drilling equipment inspection, service, repair and recertification. It has also secured the standard for provision of engineering services.
API Q2 is the first quality management standard specifically for drilling industry service companies. Its purpose is to reduce risk and improve service quality by identifying and standardising expectations for execution of services within the sector.
The certification recognises the company's robust approach to quality management as the business continues to provide drilling contractors and operators with a cost-effective alternative to major original equipment manufacturers.
Headquartered in Aberdeen, RigQuip designs and engineers drilling equipment packages and provides associated aftermarket maintenance of equipment including hoisting and lifting equipment, pipe handling systems, power and control systems, pressure control equipment as well as solids control and mud systems.
Matt Fraser, Chief Operating Officer at RigQuip says, "Achieving a Europe first API Spec Q2 certification for our inspection, service, repair and recertification business, demonstrates the importance we place on providing the highest quality workmanship across our business. The standard is focused around risk mitigation, material traceability, and personnel competence. We see this certification as a stamp of assurance for our clients that we can provide the same high-quality service as major OEMs at competitive prices - doing our bit for cost efficiency in these challenging times."
The company has invested hundreds of thousands of pounds to achieve the API Q2 standard over a three-year period. This includes investment in its quality management team with the recent appointment of Paul Naysmith as QHSE Manager, who brings vast oil and gas experience from Expro in both the UK and the US. He also brings with him significant experience from the aerospace and pharmaceuticals industries having spent significant time at Rolls Royce and Johnson & Johnson in quality manager roles.
Fraser adds, "At RigQuip we see quality management and effective business management as one and the same. We continue to invest in this to give our clients complete confidence in the services we offer whether that's provision of a complete drilling rig package, recertification of equipment or a small parts and expendables order."