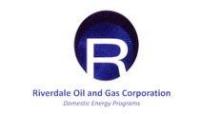 Riverdale Oil and Gas Corporation announces a significant, new oil discovery, boosting the Company's oil and gas assets; and, the extension of the RVDO 2014-1 Program.
Riverdale's new oil producing interest is in the completion stage. The field tests indicate that the well, Stowe #5, has the initial potential to produce more than 100 barrels of oil per day. The operator of the well, Property Development Group, plans to produce the well at a daily rate of 50 to 70 barrels of oil per day to maximize the long term output of the well.
The Stowe #5 was completed in the prolific Catahoula oil sand in the Brookshire Field situated in Waller Co., Texas, at a depth of 2330 feet. Riverdale acquired a 3% working interest, netting a 2.25% interest in the revenue, after mineral royalty and before taxes and operating expense. The interest was acquired in a trade for some excess equipment owned in part by Riverdale. The interest is expected to create a significant increase in Riverdale's cash flow, and should be seen in this quarter's financials.