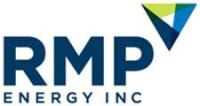 RMP Energy Inc. announce and provide the following:
Corporate Production
For the fourth quarter of 2013, RMP's production is estimated at approximately 7,220 boe/d (weighted 55% light oil and NGLs), which represents a record level of quarterly production for the Company and a 9% increase over the preceding third quarter level of 6,639 boe/d. RMP's annual average daily production for fiscal 2013 is estimated at approximately 6,860 boe/d, exceeding both its originally-guided 2013 production target of 6,000 to 6,500 boe/d and its subsequently upward revised guidance of 6,800 boe/d. For fiscal 2014, the Company is forecasting daily production to average 10,000 boe/d (weighted 68% light oil and NGLs), a projected 46% increase over fiscal 2013. Fourth quarter 2014 production is forecasted to exceed 12,000 boe/d, weighted 70% light oil and NGL's.